APO-LANTHAR
35mm F2 Aspherical
Highest performance semi wide-angle lens in Voigtländer history
Features
The apochromatic design reduces the axial chromatic aberrations of RGB, which comprise the three primary colors of light, to practically zero. This is a semi-wide angle lens that is on par with the APO-LANTHAR 50mm F2 standard lens that pursues ultimate performance. This lens combines the highest level of performance for a semi-wide angle lens in Voigtländer history with compactness and ease of handling.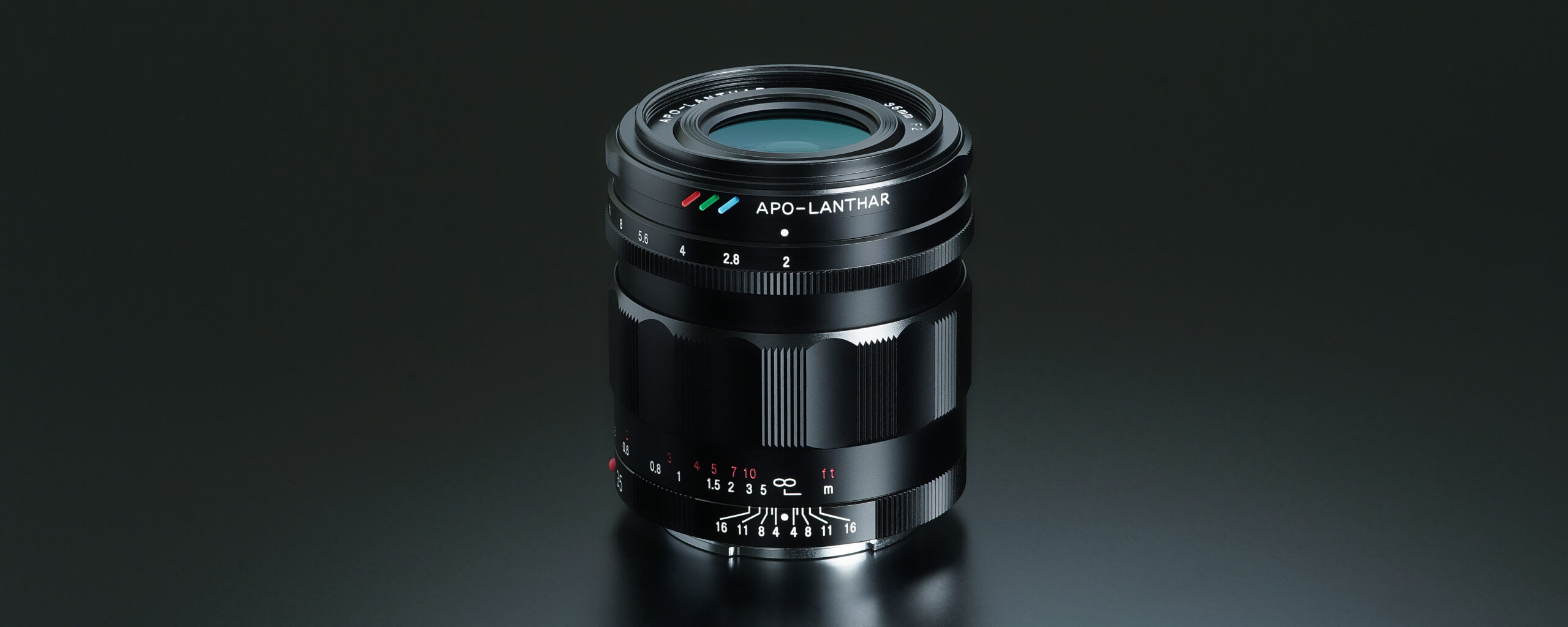 Main Features
For Sony E-mount
The lens has electronic contacts to ensure that lens usage data is included in the Exif data of captured images. Furthermore, the built-in distance encoder enables support for 5-axis image stabilization on the body side. Other features include being able to magnify the finder display by operating the focus ring.
Optimized optical design
Provides an imaging circle that covers the 35 mm full frame format and utilizes an optical design optimized for Sony E-mount sensors. High resolution is maintained up to the image periphery and color shifts are well controlled.
Apochromatic design
Axial magnification chromatic aberrations are extremely well controlled to ensure compatibility modern high pixel count digital sensors.
12-blade aperture diaphragm for enjoying expression utilizing bokeh balls
The aperture diaphragm utilizes a special shape to ensure a circular aperture opening at the maximum aperture of F2 as well as at aperture settings such as F2.8, F5.6 and F16. This enables imaging utilizing bokeh balls of point light sources.
Manual focus for reliable focusing
Employs a very precisely machined and adjusted all metal helicoid unit lubricated with high quality grease to realize smooth focusing operation with just the right amount of torque. This enables very precise focusing.
Aperture click-stop switching mechanism
The lens employs an aperture click-stop switching mechanism that enables the aperture mechanism to be steplessly stopped down/opened up with no click-stop sound. This ensures that the sound of the aperture ring being operated is not recorded while capturing video.
Specifications
Lens diagram
Focal Length

35mm
Aperture Ratio

1 : 2
Minimum Aperture

F16
Lens Construction

9 groups 11 elements
Angle of View

62.2°
Aperture Blade

12 elements
Minimum Focus

0.35m
Maximum reproduction ratio

1 : 6.77
Diameter × Length

φ62.6×67.3mm
Filter size

φ49mm
Weight

352g
Hood

Supplied
Electrical Contact

Available
Manual Focus Assist

Available
Exif Data

Available
Auto Lens Correction

Possible
5-Axis Image Stabilization

Possible * only on camera body with 5-Axis Image Stabilization
Others

Selective Aperture Control System
EAN
Ean Code

EAN 4002451003469
Accessories
Standard Hood

Examples
APO-LANTHAR 35mm F2 Aspherical PHOTO BY _K/

APO-LANTHAR 35mm F2 Aspherical PHOTO BY _K/

APO-LANTHAR 35mm F2 Aspherical PHOTO BY _K/

APO-LANTHAR 35mm F2 Aspherical PHOTO BY _K/

APO-LANTHAR 35mm F2 Aspherical PHOTO BY _K/